As you know species are going extinct today 1000 times faster than historical natural cycles.  Our mission is to protect endangered land and those species that live on the land.
So we were very excited when we read this article about the Horton Plains Slender Loris, a small nocturnal animal that can grow up to 6 inches long, thought to be extinct, being caught on camera in the forests of Sri Lanka for the first time.  However, the loris maybe in trouble as a species if deforestation in Sri Lanka is not controlled.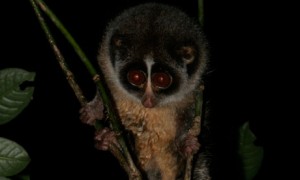 Experts say that deforestation in Sri Lanka, due to cutting down the forests to create tea plantations, was the biggest threat to the loris.  The destruction of their natural forest for both farming and logging has cut off the loris from their partners.  Because they can't move to one anther, they can't mate and breed. Therefore there are real implications for the survival of the loris.
The Horton Plains Slender Loris is one of the world's most threatened primates. Experts estimate there are just 100 left or even fewer. Their numbers may even be below 60 – which would make it the rarest primate species.
Because for many years they were thought to be extinct, very little or almost nothing is known about them. Unless their natural habitat is preserved and we do something to protect them they will be extinct.
Read the complete article about the Horton Plains Slender Loris here