We're pleased to announce that we now have an alpha version of the ecoReserve website! This is a private site that we're testing internally but here's a screenshot of what the *real* Panamanian rainforest looks like!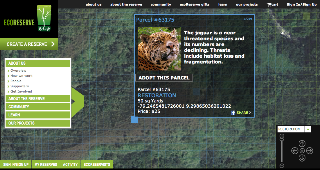 On the alpha site, you can see all of the available conservation and restoration reserve parcels in the Panamanian rainforest that you'll help to protect. You can click on the interactive map to adopt your own nature reserve, and your personalized ecoReserve page will display your profile, a portfolio of parcels that you've adopted, multimedia content that you've uploaded, and messages from your friends. Over the next few weeks, we'll be refining the alpha site and adding features.
We are now in the final push to launch the public Beta version of the website in the next few weeks.
We will be refining the alpha site and adding several exciting social networking features that will enable micro-conservation to spread rapidly among friends.
We are almost there but we need to raise an additional $20,000 in the next few weeks to launch the site. If just 200 friends like you donate $100 today, we'll make our goal within 24 hours. Would you please be one of those 200 friends?
If you donate any amount before our Beta launch, you will become one of our Founding Donors honored on the Wall of Fame, and you'll secure a respected place in ecoReserve's startup history.
Thank you for your good wishes and support this year. We couldn't do it without you!
If you're on Facebook, click here to donate throughCauses.
If you're not on Facebook, click here to donate through Givezooks.