ecoReserve And Micro-Conservation Unveiled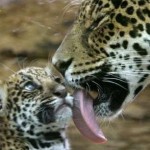 ecoReserve is excited to be a part of the San Francisco Green Festival this year and to be unveiling micro-conservation for the first time in a public forum to attendees of the Green Festival. Please join us and be on the leading edge to learn about a new concept called micro-conservation and what you can do as an individual to make a difference in this world to protect ecologically significant land and create sustainable livelihoods for those people in living on the land.
Become a micro-conservationist! You can create your own living-room size nature reserve on endangered land for just $25. ecoReserve is a new non-profit that is launching a game-changing model for conservation this spring called grassroots micro-conservation. Your nature reserve will protect rainforests and animal habitats, and help local communities live sustainably. Here's a preview of what you will be able to do as a micro-conservationist.
You can select a parcel on our interactive map that uses the Google Maps API and high resolution aerial imagery to display the available reserves. You will then receive your own private reserve page with annually updated images of their reserve so you can track changes over time. You may visit your reserve whenever you wish. Our scientists will provide ongoing information about the reserve's restoration, its plants and animals, and its ecosystem services such as carbon sequestration.
You can learn about conservation as our site will have educational features such as Posts from the Field with videos, photos, and blogs from the scientists, staff, and local community members. You will have your own personal profile where you can share facts about yourself and upload photos and videos. As a members you can save land as individuals or in a group (such as family, friends, colleges, companies). You can join clubs to connect with people who share similar interests (e.g. sustainable livelihoods club). Our Facebook app and iPhone app will enable individuals to share their reserve easily with their social networks.
You can make a difference for generations to come by engaging ecoReserve's game-changing conservation model.
Our mission is to provide a platform that will allow you as an individual to restore and protect endangered land, and support sustainable livelihoods and spawn a new grassroots movement for individual land conservation by providing an engaging online platform for you to create your own private nature reserves around the world and to share that excitement with your friends and have that excitement spread. We are unveiling our concept at the San Francisco Green Festival.
The San Francisco Green Festival™, a joint project of Global Exchange and Green America. In 2008, the San Francisco Green Festival™ boasted 3 days filled with the best in green, and continues to expand in size and scope! With more than 150 renowned speakers and 400 green businesses, this event was an amazing success! We expect this years event to be an amazing success again.
Come by Booth 1051 at the Green Festival (April 10-11, 2010) and check it out! Share it with your friends, start the movement, make a difference.